Mississippi Works Receives 2014 Digital Government Achievement Award
News: October 10, 2014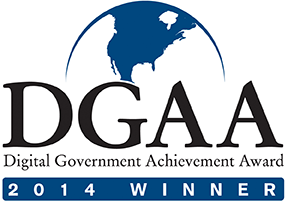 The Center for Digital Government has announced the winners of the 2014 Best of the Web (BOW) and Digital Government Achievement Awards (DGAA). Mississippi Works, the Mississippi Department of Employment Security's web and mobile approach to connecting Mississippians with jobs, received a 2014 Digital Government Achievement award in the Government-to-Citizen category.
The Digital Government Achievement Awards (DGAA) highlight outstanding agency and department websites and applications. Awards were presented in eight categories this year.
"Across the board, this year's Best of the Web and Digital Government Achievement Award winners and finalists have demonstrated how effective their portals and applications are," said Todd Sander, executive director of the Center for Digital Government. "Elements such as upgraded eCommerce capability, mobile first design, intuitive search, improved transparency and integration of social media provide citizens and businesses easier and better access to their government. Congratulations to the awardees for their impressive work to make government more open, responsive and mobile-friendly."
---
Keeping a Promise to Hardworking Mississippians
Ensuring that every Mississippian has a job takes the commitment of innovators in all parts of Mississippi's workforce economy: employers, state agencies, education and training providers, and economic developers. Great businesses all over the world have seen the promise of Mississippi; her people, resources, and infrastructure mean that Mississippi is ready to seize the promise of her future. Get started by visiting the many Mississippi Works Partner Sites who make Mississippi work.
Governor's Job Fair Network
Claiborne County Career/Job Fair
Date: 7/17/2015
Time: 10:00 AM - 3:00 PM
Location: Multipurpose Building 1703 Bridewell Lane, Port Gibson, MS
Vicksburg Area Job Fair 2015
Date: 8/4/2015
Time: 9:00 AM - 2:00 PM
Location: Vicksburg Convention Center, Vicksburg, MS
Greenwood Leflore Area Job Fair 2015
Date: 8/27/2015
Time: 9:00 AM - 2:00 PM
Location: Leflore County Civic Center 200 Mississippi Hwy 7, Greenwood, MS
Partner Sites
Partner sites carry the "Proud Partner" network logo: